Micky's, the popular West Hollywood gay bar, is being sued by a customer who claims he was assaulted and battered when he was struck and beaten by bouncers."

In the lawsuit, filed in L.A. Superior Court on April 5, Jeffrey Thomas alleges that Micky's security guards physically assaulted him when he was visiting the bar on July 31 last year.

The lawsuit claims that Thomas has incurred hospital and other medical expenses and lost wages as a result of the alleged assault. Thomas is being represented by attorney Martin Stanley.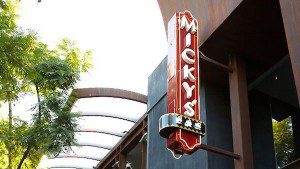 Micky's on Santa Monica Boulevard in West Hollywood.

Thomas' lawsuit is the latest in a number of allegations that bouncers at Micky's have assaulted customers. Several of those alleged assaults were chronicled in an April 30 story in WEHOville about Andrew Hampton, 29, who claims security guards picked him up and threw him out of the bar so that he landed on his head. Hampton suffered cuts to his head that required stitches and a broken tooth. He was taken to the hospital.

In comments on Yelp and Google over the past 16 months, six other people, one of whom was interviewed by WEHOville, have alleged they were assaulted by Micky's bouncers.

Customers also have alleged misuse of their credit cards by bartenders, mostly with complaints that they had been charged unexpected tips. They have called out bartenders for other rude behavior and for refusing to offer them water between drinks unless they pay for bottled water. Making water available at bars is widely seen as a way to reduce serious intoxication. And there have been multiple complaints of misogynistic and racist behavior by the staff, with women claiming they have been called "bitches" or "c-nts" and one woman alleging a friend was called an "ugly fat black bitch."

Micky's owner, WHBT Inc., has yet to file a response to the lawsuit. WEHOville has reached out to Michael Niemeyer, the owner of WHBT and Micky's, for a comment on the lawsuit. As of publication, Niemeyer hasn't responded.

Micky's is located at 8857 Santa Monica Blvd. in the heart of West Hollywood's Boystown nightlife district.

via https://www.wehoville.com/2018/05/17/man-sues-mickys-bar-another-alleged-assault-bouncers/